About
DENT SPECIALIST is a locally owned and operated
small business that has been serving the Carolinas
since 1994. We have worked with insurance
companies all over the world for more than 18 years.
Our technicians provide a highly specialized dent
repair service. In many cases damage that can be
repaired utilizing the PDR method is assigned to
conventional repair, unnecessarily inconveniencing
the customer. Our goal is to provide customers with
an opportunity to repair minor damage to their
vehicles without resorting to time consuming and
costly conventional repair.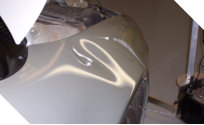 Done Right the First Time!
Before
After
©
Dent Specialist |
444 Action Drive, Concord, NC | (855) ZIP-DENT / 855-947-3368